Greetings from Father George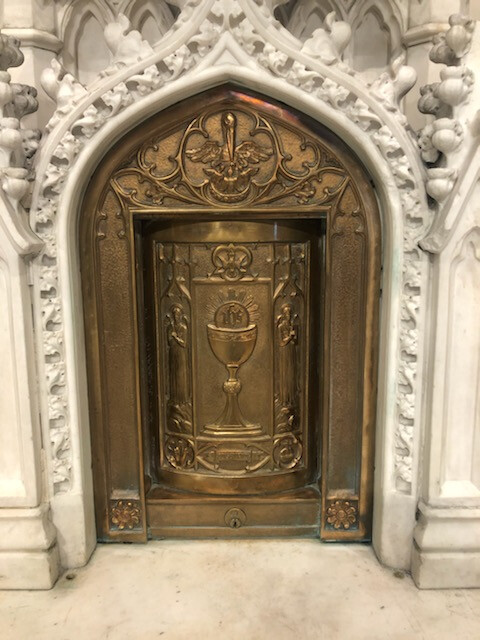 October is the month of rosary, and what a blessing it is to give rosary beads to all who come to Mass this weekend. The rosary was made popular at a pivotal moment in history. The Ottoman Empire had assembled a vast fleet to invade Italy in the autumn of 1571. The Christian forces, made up of a league of nation states that often warred against each other, were hopelessly outnumbered. If the Ottomans conquered Italy, Rome as we know it would have ceased to exist. Of course, the faith would have continued, but the Catholic Church would have been severely diminished, and it would be very likely that our parish and most communities of disciples throughout the world would never have come to be. Pope St. Pius V, asked for all Christians to pray the rosary, asking Our Lady to intercede. On the eve of battle, a storm destroyed a large number of the Ottoman fleet and the Christian forces were able to win the day on what is now known as the Battle of Lepanto, on October 7, 1571. The anniversary of this is commemorated in the liturgical calendar as Our Lady of the Rosary.
The reality is that our world is in a much more perilous situation than in 1571. The situation in Ukraine pits the two largest nuclear powers against each other. Pope Francis reminds us that while it is very unjust that Russia invaded a sovereign nation and claimed parts of it as her own, those in world leadership, including those in our government (both democrat and republican) appear to be more interested in military escalation in Ukraine than stopping bloodshed (https://www.vaticannews.va/en/pope/news/2022-10/pope-appeal-putin-zelensky-stop-war-dialogue-peace.html). This threat of nuclear war has not been seen since the Cuban missile crisis. When the Cold War threatened to turn into a nuclear holocaust, Pope St. John XXIII called on the world to pray the rosary. Ultimately, the United States and the Soviet Union both made concessions neither party was particularly happy with, and nuclear war was averted.
We asked the Virgin Mary's intercession in 1571 and 1962. We need her prayers today. Let us pray that the leaders of Russia, Ukraine, and the United States understand that no matter who the aggressor, there is no victor in an atomic exchange. If you are already praying the rosary, add this to your intentions. If this prayer is not part of your regular religious practice, what better time to start than now. Our Lady of the Rosary, Our Lady of Peace, pray for us!
WE NEED THE FOLLOWING ITEMS TO HELP OUR NEW NEIGHBORS SEEKING ASYLUM:
$31 METROCARDS
$30 AMEX/VISA/MC GIFT CARDS
SOCKS AND UNDERWEAR IN PACKAGES (MALE/FEMALE/YOUTH/ADULT)
WINTER COATS
THESE ITEMS CAN BE DROPPED OFF TO THE PARISH OFFICE DURING REGULAR HOURS. METROCARDS AND GIFT CARDS CAN ALSO BE DEPOSITED IN THE COLLECTION.